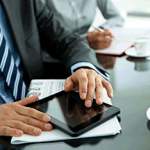 JSO celebrates young soloists at Junior Concerto Festival Performance
Proud sponsors GTC commit to continued sponsorship of musical talent
Sunday 7 June, Linder Auditorium, Johannesburg
The Johannesburg Symphony Orchestra (JSO) celebrated its 127th Young Artists' Junior Concerto Festival this afternoon as nine young soloists performed alongside the 40-person orchestra at the Linder Auditorium.
In the JSO's ongoing commitment to developing musical talent in South Africa the nine young soloists that performed were all under the age of 14 years.
Of the nine young soloists who performed with the JSO, key performances were:
13-year old Roxanne van Oudtshoorn playing Zigeunerweisen by Sarasate;
11-year old Leo Huan playing Kabalevsky's Piano Concerto;
Fantastic Baroque music by 11 year old violinist Pendo Masote; and
12-year old violinist Linique Lawrence playing Kabalevsky.
The youngest performer was the 7 year old pianist Nika Meiring
"We are delighted to welcome such young aspiring musical talent to share the stage with us this afternoon," says Jeff Mattee, Chairman of the JSO.  "We are a community orchestra and all of our playing members perform for the love of music.  Many of the young soloists who performed with us today started with music lessons at the very young age of six, also through a deep seated passion for classical music."
The JSO is the oldest surviving orchestra in South Africa, with its first concert held more than 80 years ago in the Wanderers Hall in Johannesburg on the 30 September 1934 under the baton of Viennese born conductor, Joseph Trauneck.  The Orchestra's Concerto Festivals have also proved to be consistently successful and the ongoing enthusiasm for the educational value and enjoyment of this event has secured performances for more than 60 years. The first Concerto Festival was held on 16 June 1948 in the Great Hall of the University of the Witwatersrand.
The JSO was honoured to welcome Professor Eric Rycroft as the conductor for the 127th Young Artists Concerto Festival.  Professor Rycroft has enjoyed a remarkable career as a performer (professional soloist, recording artist, principal orchestral player and chamber music artist), teacher and conductor. To date he has conducted about 500 performances with these orchestras, and has toured Europe on four occasions. Prof Rycroft has conducted or performed as a soloist with all of the professional orchestras in South Africa.  He is also regularly invited to train and conduct regional and national youth orchestras in the country.
At the same concerto festival GTC, proud sponsors of the JSO reinforced its commitment to fostering musical talent of present and future generations.
"As sponsors of the JSO, we believe that supporting the arts in general and the JSO in particular, is the right thing to do," says Gary Mockler, Group CEO of GTC. "We easily identify with the importance of this social responsibility, particularly when youngsters are involved and when they are empowered to be in a position to improve themselves and the orchestra overall."
GTC specialises in the areas of retirement fund administration and consulting, healthcare consulting, private client wealth management, short term risk solutions, investment management, stock-broking, derivatives trading, fiduciary services and other areas of financial advice.
"We appreciate the generosity of GTC, our sponsors, and we also welcome their willingness to ensure that the Orchestra will continue to share good music," says JSO Chairman Jeff Mattee.
The JSO has a long and illustrious history and has been instrumental in the development of many South African musicians, some of whom have achieved international standing.
Internationally renowned soloists who started with the JSO include Betty Pack, Jack de Wet, Vincent Fritelli, Gerrit Bon, Marian Lewin, Anton Nel and the tenor Deon van der Walt.
Well-known soloists who made their début with the orchestra in similar concerto festivals, were Roma Grusd (Verhoef), Ralph Kastner, Alan Soloman, Jos de Groen (Jr), Jimmy Reinders and André de Groote. Other names to be mentioned, are Albie van Schalkwyk, Gerhard Korsten, Gina Beukes, Zanta Hofmeyer, Wessel van Wyk, Neville Dove, Erika Botha, Petronel Malan.
The JSO is a community orchestra.  All playing members perform for the love of music and do not receive any remuneration of any kind.